12 Ways Logout From Facebook Messenger On Android: Facebook recently decided to make Messenger its own stand stone app. Which means our Facebook Messenger doesn't have a log out button like the original Facebook app, which can be annoying for a large number of users. In this article, we will show you how to log out from Messenger on Android and iOS from your phone or PC in a very simple way.
How to logout from Facebook Messenger using computer, phone or tablet. If you forget to log out of a public or shared computer, you can use Facebook security settings to log out remotely. If you want to delete your entire Facebook account, see how to deactivate a Facebook account instead. And also see how to log out of Facebook Messenger through today's article. And there are several discussions about this. It may fascinate you.
MOST VIEWED POSTS
How to Logout from Facebook Messenger On Android
Now I will show you how you can logout of Facebook via mobile very easily, in that context now if you notice the steps with the image you must be logged out of Facebook through your mobile.
How to Log out of Facebook on Android
Clear Messenger app data in Settings
To log out from Facebook Messenger, you need to go to the settings of your Android device.
If the app is open, close it and release it from your recent app list, otherwise this strategy will not work.

In Settings, scroll down to the Applications or Applications Manager and scroll down until you see Messenger.

Tap it, scroll down and look for storage.

Select Clear Data after opening the storage. There should also be a clear cache option, which we recommend you use as well.
Now when you go back to tapping Messenger in your app drawer you will see that it will not log you in automatically.
How to Delete Facebook Page on Mobile
How To Logout of Messenger from Facebook app
If you've got Messenger on your phone, chances are good that you've got the Facebook app as well. From the Android Facebook app, tap the More button on the top right (which should appear as three lines), then go to Settings and Privacy, followed by Settings. There you should see Account settings and Security. Scroll down to Security and select Security and login. You'll see a section called Where you're logged in, then just select the Messenger session and tap Log Out.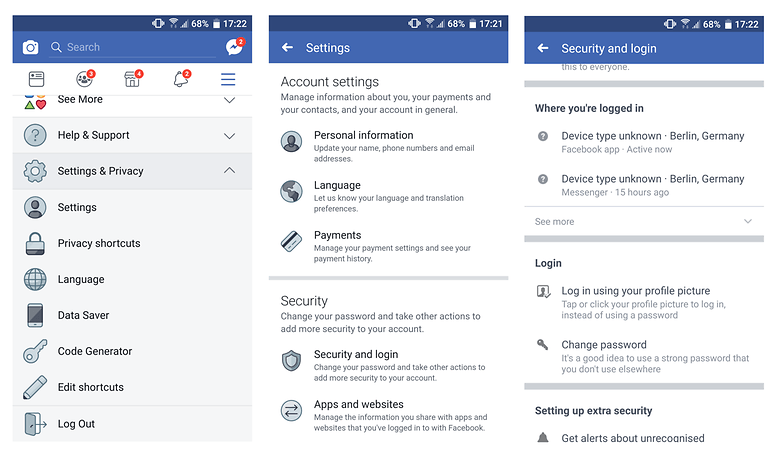 How to Delete a Page in Facebook ?
How To hide your Facebook page?